PROJECT:
WOODLANDS PARK SCHOOL HALL
Rapallo were contacted by the school to assist with adding a projection system to their hall. They had some speakers coming to the hall that required the AV system and they were in need of a projector for other events. There were two key considerations:
The projection platform was required to integrate with the existing mixing desk and speakers that were already onsite, and
The space was very light intensive as there were no curtains and a large skylight towards the front of the hall.
We supplied and installed a Panasonic 7,500 Lumen projector, Yamaha Aventage 780 AVR and a Panasonic Blu-Ray player, as well as cabling to allow for multiple HDMI access points for external devices. This was all integrated into the existing mixing desk and speakers.
The outcome was fantastic with a 4.5m screen projected on the back wall of the stage, the visual content can be seen clearly in all areas of the hall. The AV cabinet is now clean and tidy and it allows the school a whole new depth of uses for the hall.
---
The project consisted of the following Rapallo AV Design & Build services:
AV Consultation – to ensure the setup matches the clients brief and the environment before anything is built or ordered.
Product Sourcing – sourcing products that are specific to an installation.
Installation & setup – installation of the products / testing.
Projector calibration.
Support – post installation support.
Project Partners – Auckland Mobile Scaffolding / Bright Spark Electrical.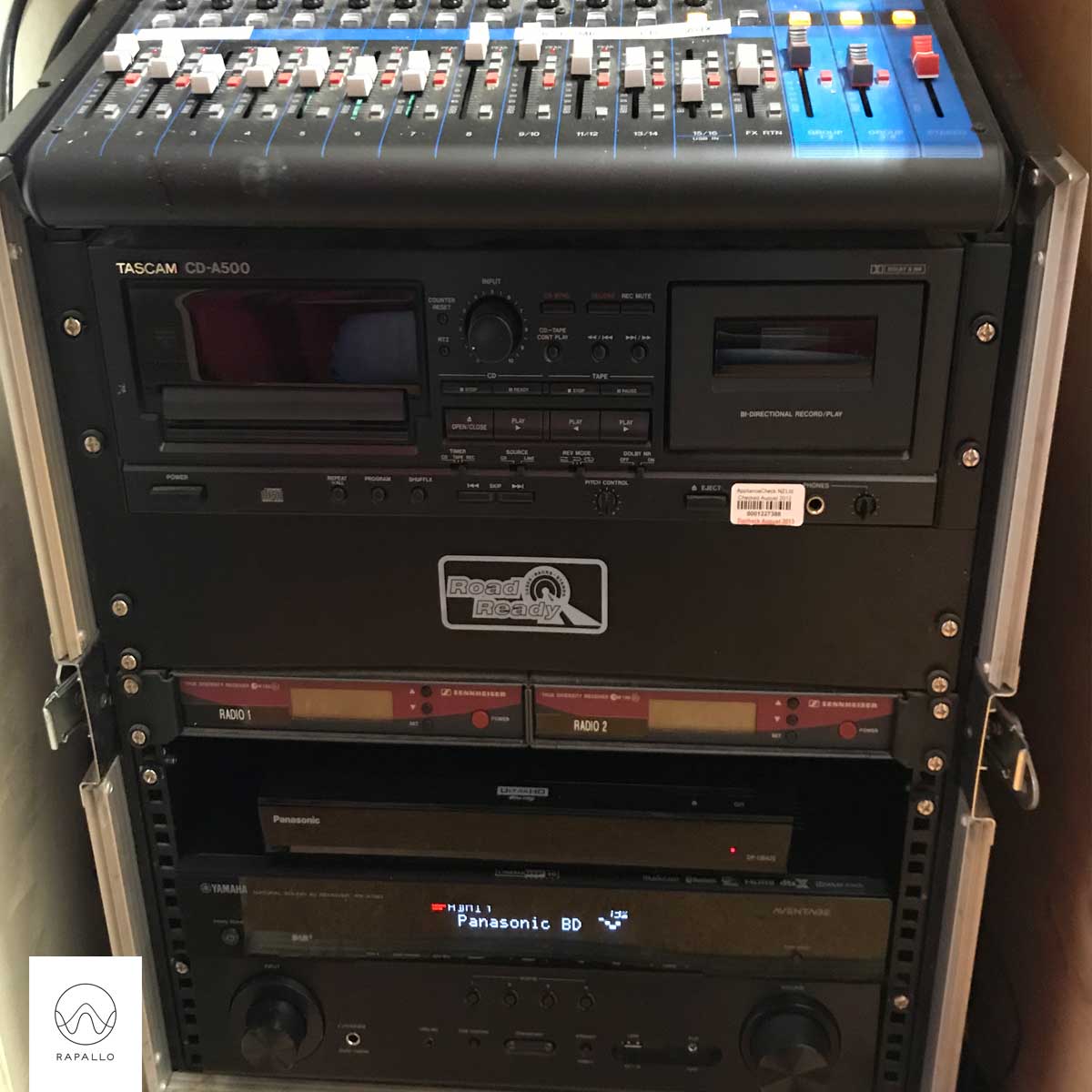 DESIGN & BUILD | AUDIO / VISUAL 
For home or office, we will advise you on suitable products, cabling, additional components, compatibility, integration, the latest and the greatest technology as well as future proofing your set-up. Even your existing equipment can be incorporated into the new system.
Our focus is on delivering to you the best product and the best service. So we ensure we take the time to understand your requirements. We can project manage the entire project for you from the pre-wiring (if its a new house) right that through to install and final system configuration.
The ultimate in "try-before-you-buy". Visit our demo rooms to try headphones, soundbars, HiFi components, speakers of all sizes and types as well as home theatre projectors. Our staff will talk you through your options and provide expert help and guidance for your HiFi or AV project.