We often write blogs tailored towards 1 side of the home audio groups: The audiophile, 2 channel type person, and The home cinema buff, surround sound and big screen type of person. This blog is actually going to interest both parties by talking about power amplifiers. It is becoming more and more common for audio components, integrated amps and pre-amps to now feature pre-outs. This is perfectly designed to implement external power amplifiers. A great upgrade to a HiFi system is the replace the integrated altogether with separate pre and power amps.
We will go into why separates are preferred by audiophiles, why adding power amps to your home cinema can bring more out of your speakers, and our recommendations for the different applications.
Why Split?
In a Receiver you have half of the box dedicated to pre-amplification and the other half dedicated to power. In an integrated amp, or AV Receiver controlling the inputs that is received from the amp is generally done through lower voltage circuitry. The amplifier section in the unit requires much higher voltages. This means the overall unit can be sacrificing power in the pre-amp section before powering the speakers. Many integrated amps take power from the back of the amp through the power amp section to control the pre-amp section then back into the power amp section to the speakers.
In a power amplifier, the circuitry and internals can be set up in a simple fashion to perform 1 task. Taking an analog signal and amplifying it to your speakers. This means all the power going into the unit is being used to power the speakers, rather than the pre-amp, DAC chip, volume control and many more other components. This basically equates to shorter signal paths inside the chassis, and space for larger amplifier modules.
The most convincing argument for power amplification is the amount of power the units can deliver over integrated amps. Not many AV receivers deliver 100 Watts per channel into 8 ohms. Many power amps can deliver this in a breeze. For example the Emotiva A-300 can deliver 150 watts RMS per channel into 8 ohms. They even deliver class A/B amplification which is widely regarded as transparent sounding, and clean power. With a powerful class A/B amp you will hear greater dynamics and punchier bass great for movies and HiFi listening.
A dedicated power amp like the A-300 can make use of better quality internals. Power amplification requires a lot of power, and generates a lot of heat. Keeping this function separate from other components is good for keeping the longevity of all the HiFi and home theatre components within your system.
Power up your Cinema
If your AV Receiver has pre-outs, a dedicated power amp can bring huge benefits to your listening experience. Most affordable AVRs use class D amplification because it is power efficient, and doesn't exert heat as much as other types. Some AVRs like the Yamaha RX-A780 just have pre-outs for front left and right channels. This is an ideal AVR for someone who wants to double their cinema as a listening room. You can implement a 2 channel power amplifier to power the front 2 channels when listening the stereo music.
In the Yamaha RX-A880. It features Zone 2 preouts which allows for a second zone to be sent out to a power amplifier. You just need to make sure in the settings zone 2 is on variable volume control. But for the movie buffs it also features full 7.2 pre-outs. This allows you to optionally add a 2 channel (or 2 monoblocks), all the way up to a 7 channel power amplifier which will independently power your speakers.
If your AV Receiver has a full 7.2 or 9.2 pre out section you have the option of implementing a 2-channel power amp for stereo HiFi listening (as mentioned above). You can add a 3-channel power amp to power the Front Left, Centre and Front Right speakers. This is a great option for the movie buff because more than half of the audio in a movie is performed through the front 3 channels. Furthermore, about 60% of the front audio is performed through the centre speaker alone. Having these speakers amplified well will bring audible benefits to any home cinema.
Rapallo's Picks
Monoblocks
Definitely look at Perreaux if you are interested in raw class AB power. We love the pure sound that you can get from the Perreaux Prisma 750 Monoblocks. In our showroom these are our main drivers for testing speakers, and components.
For the Tube amp lovers look at the new PrimaLuna EVO 400 Power Amplifier. It doubles as a stereo power amp and switchable to a single monoblock for even more power!
2 Channel (Stereo)
The most affordable stereo power amplifier is the Emotiva A-150. In fact, we use this amplifier for the Atmos channels in the demo room. Delivering 75 Watts of A/B amplification this amp is capable of being a solid HiFi power amp for audiophiles and cinema buffs alike.
The Rotel RB-1552 MKII is a great option with 130 Watts of AB amplification in a beautiful solid body.
Multi-channel Power
Similar to the Emotiva A-150, Emotiva do power amp all the way up to 11-channel power amps. The Emotiva A-5175 is a powerful 175 watt power amp for 5 speakers, great for juicing up a 5.2 system, or even an Atmos system.
Emotiva make the XPA series of amplifiers which feature a modular design. Meaning customers can send their amp into us and we can add additional amplifier board (module) to increase the amount of channels the amp can drive!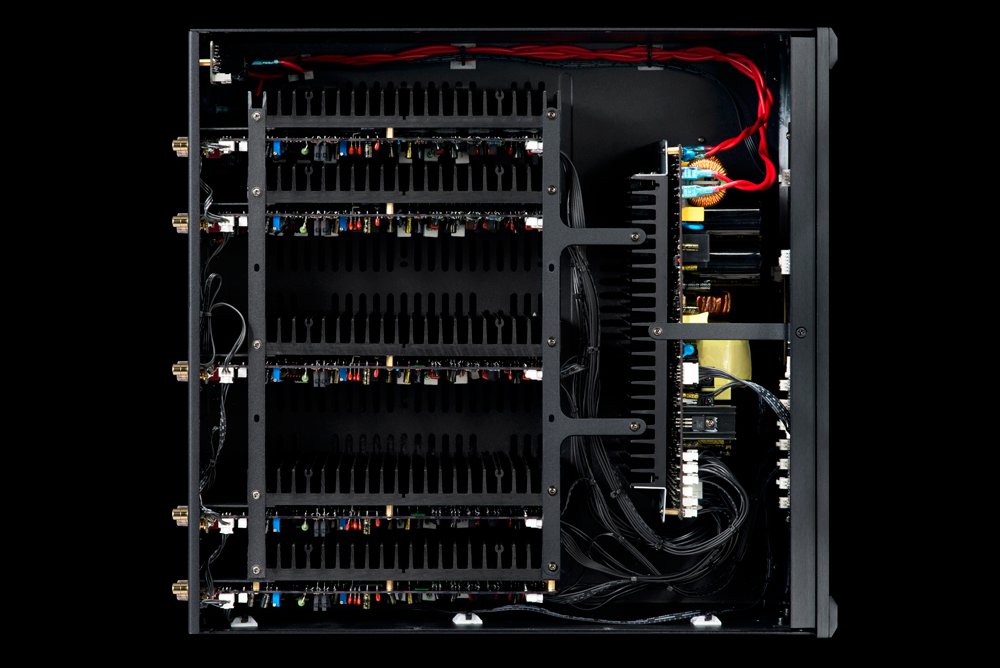 Sources: Cambridge Audio, Emotiva, Yamaha, PrimaLuna, Rotel