Projector technology has come a long way, and is growing rapidly in the past couple years. Home theatre projectors are coming down in price, and up in performance. Lasers and LED light sources are becoming more common, 4K UHD budget projectors are becoming more accessible thanks to Texas Instrument's DLP chip. The TV industry has certainly grown even more, but people are still seeing the benefits of screen size you can only get through a screen and projector combo.
This blog will give an overview on the technology of projector light (lamp) sources plus the key benefits of each type.
We must point out first of all we have a super Sony deal on the VPL-VW760ES 4K Laser Projector, where you can take off $3,000 off the price if you trade in any projector! (working or not). If you are in the market for this projector, take advantage of this offer before it's gone for good!
CLICK HERE
Main light source types:
Light Bulb / Lamp
LED
Laser
Why is the light source important?
The difference between a projector and a TV is that 'light' shot at our eyes from a TV and through a projector, light is 'reflected' at our eyes. For a long time (over 120 years ago) from the first ever movie projector, the light source was an incandescent light bulb.
The light source within a projector is the first stage of creating the image. The aim of the light source is to create the brightest, and most clean 'white' light. This is created by the above mentioned light source types. The concentrated light is then shone through a micro-display. See a simplified photo/animation of the where the projector bulb is located within the chain. The image below is a very simple version, most home theatre projectors implement more technology like 3LCD, prisms, colour wheels and much more.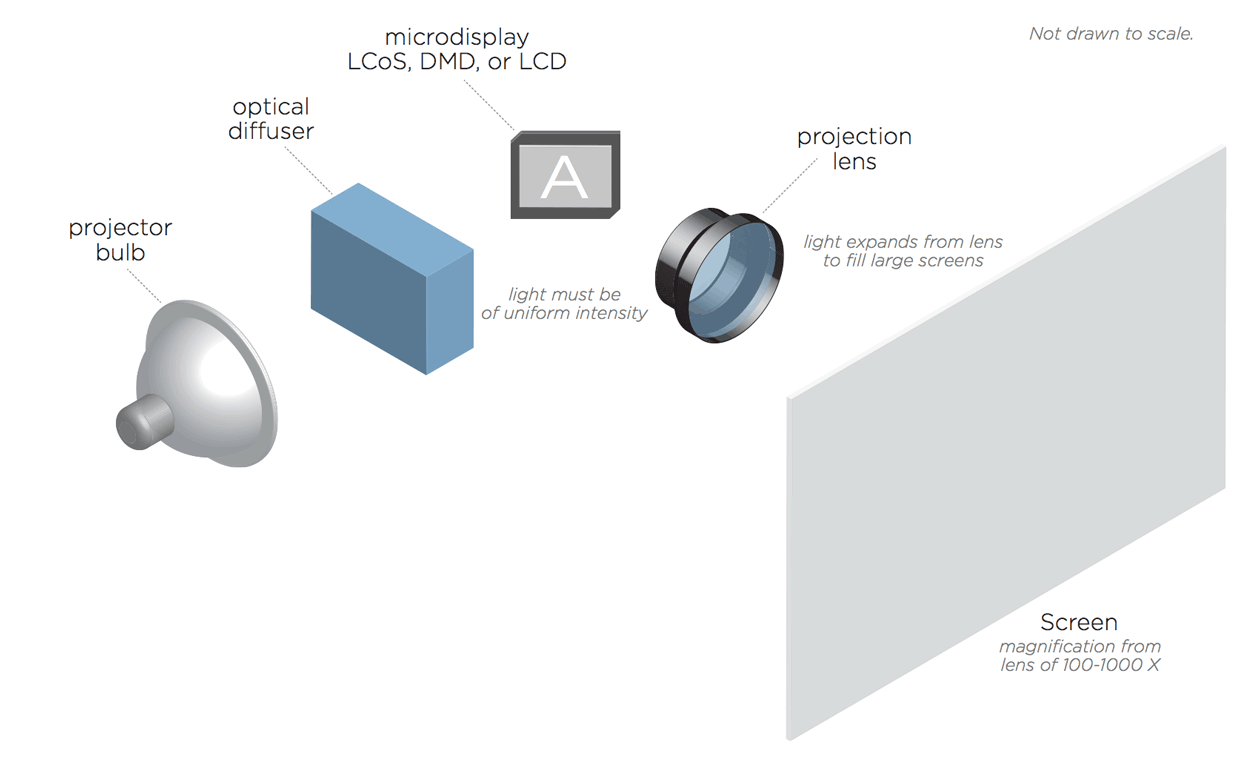 Read more on Micro-displays here
Light Bulb / Lamp
The most common and oldest technology is the bulb, it is an incandescent lamp.  They are also called Ultra-High-Pressure lamps (UHP). These lamps create illumination through a burning filament. This means these bulbs need cooling from fans. It is important to note lamps cannot be turned off instantly, they must have a period of warming up and cooling down between sessions. Switching them off without cooling can damage them. Advantages of the bulb is that it is common and lower cost than the brighter alternatives. They don't produce fully saturated reds, and colour consistency changes over time. On average a bulb looses 50% brightness at 2,500 to 5,000 hours. It is common knowledge that Epson keep their bulbs cost to a minimum, making ownership costs for their projectors quite low. Meaning for Epson owners they can bring the brightness and life back into their projector with a mere $200 after a couple years of use.
Xenon is a variation of a projector lamp found in professional projectors. Their advantages include a cleaner white light resulting in better saturated colours. But they have lower lifespans, around 2,000 hours.
Rapallo's Favourite Lamp Projectors:
LED
This is found in many small portable projectors. The light source consists of red, blue and green LEDs combined to create a white light. The lifespan of LED lights sources can go up to 10,000 to 20,000 hours. They deliver better colours, lower power consumption and have much lower maintenance costs (if at all) over bulb projectors. LED and Laser alike work by manipulating electrons below the surface and forcing them to emit light at certain frequencies. These light sources act in a 'solid state' fashion, resulting in no moving parts. LEDs can be instantly turned on and off without a cooling period.
Rapallo's Favourite LED Projector:
Laser
You may not know that laser is an acronym standing for Light Amplification by Stimulated Emission of Radiation. Simply put, it is a process of optical amplification that focuses it into a narrow beam of parallel rays of light. Lasers have the same wave length that doesn't interfere with each other. Which is why you see laser beams having a very strong effective distance. The main benefits of laser is that it has virtually unlimited life-span, and it can go extremely bright. This means it is preferred for professional installations where there is a lot of ambient light and long periods of use.
We see 2 types of laser systems in projectors. A true laser system, and a laser phosphor system. A true laser consists of lasers for red, green and blue to create the white light. This ramps the production costs up by quite a bit. You may be aware of IMAX with Laser that is featured in the Auckland IMAX cinema, where they use a 4K laser projectors.
The alternative to true laser is laser phosphor, that you see in the Sony VPL-VW760ES. This consists of 1 blue laser diode that shines through a phosphor wheel that converts the colour to white.
Laser phosphor uses blue laser diodes exclusively. To generate the necessary red, blue and green colors, the blue light from the laser diodes shines onto a spinning wheel that is coated in a phosphor compound. The laser light excites the phosphor and produces yellow light. The yellow light is then split into red and green using a dichroic filter while the blue light passes directly through a diffusion segment in the phosphor wheel.
Rapallo's Favourite Laser Projectors:
Of course, if you have any questions about projectors, or anything home cinema you can always contact the Rapallo Team. (09 2744515 or sales@rapalloav.co.nz)
Sources: Rapallo Ltd, Christiedigital, Sony, Epson, IMAX