There is a lot of different terminology when it comes to Home Audio Amplifiers. It can be confusing how many different types of amplifiers there are. We want to make it as simple as possible to understand the terms and product types. In our Amplifier glossary blog we go into a deep explanation on amp-lingo like D/C, Voltage, and Impedance. I. This blog will help define the different Amplifier categories. The simplest way to look at this type of product is in 3 categories: Power Amplifier, Preamplifier and Integrated Amplifier. Other products are just variations for the 3 categories mentioned. We will go into the definition of these main categories plus the different sub categories like AV processors, and Receivers. We will list 2 examples of a product that falls under each of the categories.
RAPALLO TIP: If you visit each product category on our website (hover your mouse over Audio and you can find the different Amplifier types) under each subcategory Rapallo have written an in-depth description of each product type. Treat it like a glossary.

Yamaha CX-A5200 AV Preamplifier (left), Yamaha MX-A5200 11-Channel Power Amplifier (right)
Power Amplifier:
A power amp is an amplifier in its purest form. It amplifies low-power audio signals to a level suitable for driving loudspeakers; that's it. As a result, they can't operate on their own and will require pre-amplification and volume control of some sort.
Perreaux Audiant 100p Stereo Power Amplifier
Emotiva XPA-7 Gen3 Modular Amplifier System – 7 Channel
Preamplifier:
A Preamp takes a low level input signal and prepares it for amplification. A pre-amplifier usually contains not only amplification circuits but also filters used for tone control (bass, treble, mid-range) and equalisation circuits. They are quite complex multi-taskers. The main role of any pre-amplifier is to boost the signal level to the point where it can be fed to the power amplifier.
Perreaux Prisma SM6 MkII Balanced Stereo Preamplifier
PrimaLuna DiaLogue Premium Preamplifier
Integrated Amplifier:
An integrated amplifier contains a pre-amplifier and power amplifier in one unit, as opposed to separating the two. Most modern integrated amps and have several inputs for devices such as CD players, DVD players, and the likes. Some have Tuners, Analog and digital inputs.
Cambridge Audio CXA80 Integrated Amplifier
Yamaha WXA-50 MusicCast Wireless Streaming Amplifier
The definitions above are the main types of amplifiers in HiFi/ Home Audio. Most other amplifier type components are variations of the above categories.
Receiver:
A Stereo Receiver is simply an Integrated Stereo Amplifier (2 channel) that has a radio tuner built inside, which makes FM radio an audio source. An AV Receiver (AV meaning Audio Video, also called AVR, or just receiver) is an all-in-one solution for the 'home theatre'. A receiver is a power amplifier, a pre-amplifier (basically a multi-channel integrated amp) and a radio tuner all built into one unit, but it also allows you to route image through the receiver as well. Most modern AVR's use HDMI as the video input. These days AV receivers service multiple 'zones' and come with a whole range of features and extra's. A lot of people call an AVR a Receiver, which can become confusing. It's really interesting as the whole meaning of the word Receiver is defined generally by having a built-in Tuner.
Yamaha R-N402 MusicCast Stereo Hi-Fi Network Receiver
AV Processor:
An AV Processor (also called AV Preamplifier) is basically a Preamplifier for Home theatre. They usually feed into a multi-channel power amplifier, or multiple stereo amps (or even monoblocks!). An AV Processor usually has HDMI inputs as the video inputs and various digital and analog inputs for audio. The AV Processor then feeds out analog audio via RCA or XLR balanced audio outputs.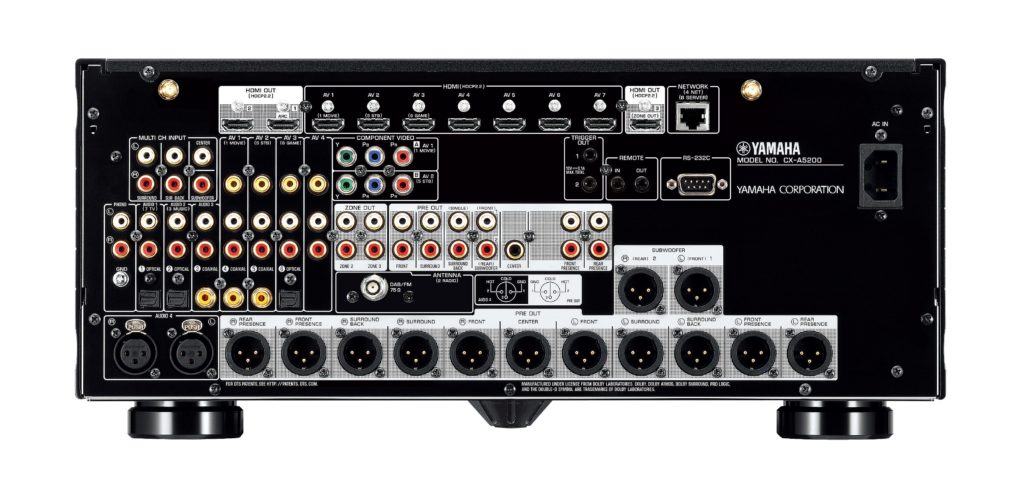 Rear view of Yamaha CX-A5200 AV Preamplifer / AV Processor
Yamaha Aventage CX-A5200 AV Preamplifier
Emotiva RMC-1 16 Channel Dolby Atmos & DTS:X Cinema Processor
Hopefully, this blog has cleared up some questions you have about home audio amplifiers. It can take a while to get you head around the different types. "When I am unsure of an amplifier I usually look at the connections on the rear of the product. It helps me understand if the product has speaker binding posts, or inputs and outputs." Rapallo's Ben
Adapted from "Rapallo's amplifier glossary" by Mattie Belsack (September, 2016)