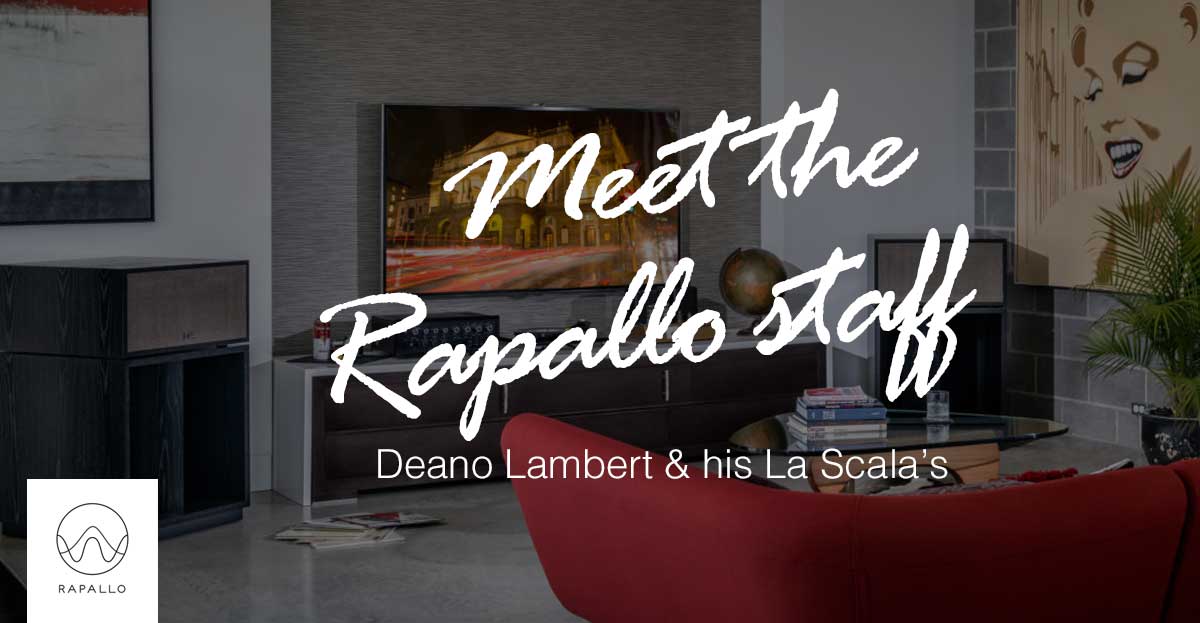 A huge part of Rapallo is our staff, as we are only a small team. All our team are crucial to the operation of the business but more importantly, they are the people that deal with you… our customer. 
We understand that your experience and your needs are unique. We believe it's one customer, one experience at a time which is why we tailor our experience around you. In-depth information, the right advice, and always-available support are all here to make sure your needs are met. And because our customers actively promote our business to their friends and family, we instinctively understand that you are the most important aspect of our business.
So this week, we thought, why not do some self-promotion and let you know a bit about Deano. He's been the face of the business for a number of years now, exuding passion and knowledge to our customers. His memory is something else too, as he can recall names and orders of people from years back.
Without further ado…. meet Deano. 
Q. What's your position at Rapallo AV?
I'm the General Manager.
Q. What is your role?
I run our shop and online store on a day to day basis, manage customer orders and questions provide technical advice and my favorite part of the role, doing demo's for customers.
Q. So going back a few years, what got you started in AV?
I have always been interested in Audio and Visual electronics. From an early age my farther owned a Linn turntable and Mission speakers. Most evenings and all day Sunday my family would listen to vinyl. Most of the time it was mum and dad's choices when it came to what we listened to… the legends. Artists such as Dean Martin, Matt Monroe, Sinatra etc but every now me and my siblings were allowed to choose. My first vinyl record was the Fine Young Cannibals (the raw and the cooked), and the first time I heard this album I was gobsmacked at the detail and dynamic range the system had. Still to this day I get goosebumps when I hear this album. Its the emotion from a fantastically produced album and the emotional link to my family.
Q. What was your first HiFi purchase?
At the age of 12 years old my family and I visited my uncle. One evening and he played Jean Michelle Jarre live in Houston. It was a video and the sound was passed through a Technics amplifier and speakers. From that day on my dream was a Technics system.  That emotion stayed with me until I had saved enough money to buy my own Technics HiFi system. I remember going into the local HiFi shop and listening to so many cCD players, amplifiers, tape decks and speakers and eventually left the shop with a well thought out package. I rushed home and set it all up, so excited. I remember powering the system on and listening to the first CD and smiling for hours. To be honest that smile still happens every time I hear great components.
Q. How as your system progressed since the first HiFi you owned?
As any audiophile will now the journey is a down a long and winding road that sometime drives you crazy with frustration. You save your hard earned money and buy a component, and sometimes it's perfect and is exactly what you wished for and sometimes, well… it just doesn't synergize and sends you back one or two steps. My journey has been evolving for many many years and I'm finally at the point where I'm extremely satisfied with the sound I have. But that doesn't mean I won't buy more equipment (hahaha)
Q. Being firstly a customer, and now retailer, what's the biggest mistake HiFi stores make these days?
Everything is so rushed now and most large chain stores don't listen to their customers. They also try to force products that they have overstocked on to customers. So the customer walks out with a product that they may actually not need or that doesn't suit there existing setup or infrastructure.
Q. What brands do you retail that you love?
That is a tough question, as they all have their strengths. So I'd have to say I love all our brands otherwise we wouldn't sell them (ed. bit on the fence there Deano). But seriously, every brand we retail has to go through a process here before we will stock or promote it too our customers.
Q. What's this "process"?
First we only retail products from importers that have amazing technical support, warranty backup and protect the brand reputation in the market. Secondly, the product has to sound great, so we constantly (and I mean we the staff at Rapallo) take home and demo new products.
For example – Simon  has the amazing Elac Navis powered speakers at home with the FiiO M15 as a source media player and loves the combo /  Boris has the Definitive Technology D9 and the topping MX3 amplifier / I have the Jays Audio CDT-2Mk2 CD transport at home.
We won't sell products we don't believe in and that aren't up to our standards.
Q. Are bricks and mortar stores still important?
Absolutely. Look you can buy cheap cables and amplifiers from amazon etc, but most people want to hear and visualize the products before they buy them. Do you really want to spend $1000 on a component and not have NZ warranty or the correct voltage to run it?  We are happy to demo any of our products to anyone interested, whether that's a $50 DAC or a Bluetooth adapter, everyone receives the same service. Its not about how much money you have.
Q. Has digital music stopped people buying component HiFi systems?
No not at all. People still want to be as close to the music as possible. And the only way to achieve this is to have components and stereo speakers or a great headphone system. We have people that come into the store for the first time and the only music they have heard is on their phone via headphones or through a little Bluetooth speaker. And when you play their favourite music through a great system, I love seeing their faces…  it's a wow moment!!
Q. Why is music important to you?
Wow where to begin, it's the emotional connection I think. I guarantee every single person when they hear their favorite song can tell you where they were the first time they ever heard it. Music makes memories. The emotion that music creates, butterflies, goosebumps, tears of joy and sadness, happiness these emotions are always present with music. Its also a universal language, a language that can bring people together.
Q. Got a good tip for someone looking for AV products?
When you demo HiFi or visual components, don't buy them because the retail person tells you they are the best. Take the time to judge with your emotion and your own ears and eyes. If you listen to your favorite music and it doesn't grip you and make your feet tap along, then its not right for you. And don't stress because there be a product that will engage you and make you smile every time you power it on. Just take the time to find it. Its a journey sometimes.
Q. Can you list for us some of your fav products from the Rapallo line up please.
The LFE effect is present on many Hollywood blockbusters and the general expectation of impressive bass in such movies. When it comes to movie watching, we want to both hear and feel the action. But, what about adding subwoofers to your music at home, have you considered that?
read more