Imagine seamless sound flowing evenly through every room in your home — such is the experience of multi-room wireless speaker systems.
With the advancements in wireless audio, creating a haven of a home-sound ecosystems, it has never been easier thanks to smart device control and the leveraging of mobile app technology.
So follow us through a journey into multi-room sound as we detail the two main systems we use (HEOS & MusicCast) and then look at some of the features and setups.
HEOS by Denon is a Wireless Multi-Room Sound System comprising a family of great-sounding music players for your whole home. There is a free app to control them from your iOS or Android phone or tablet. You can enjoy your favorite streaming music services, internet radio or your own music collection and set-up is a breeze.
You can play the same song in every room or any combination of rooms you choose, including a different song in every room. These are distinct advantages over other wireless systems such as Airplay and Bluetooth. HEOS uses standard home wireless technology so you can use your existing router without the need for any new equipment such as a bridging device. The wireless range and sound quality is far superior to Bluetooth and any device on your network running the free HEOS app can control every speaker. Only HEOS comes with 100 years of audio expertise from Denon.
Yamaha have created MusicCast, the world's easiest-to-use, high performance multi-room system. Play different music in each room, combine 2 or more rooms, or get everyone listening to the same thing. Available in a wide range of AV receivers, sound bars and speakers, MusicCast offers more options and versatility than ever before. 
MusicCast devices support both Wi-Fi and wired network connections, as well as Bluetooth. You can stream from a variety of network sources including Spotify, Deezer, Tidal and internet radio, as well as music from your smart device or from a PC on your network.
With Neilson research predicting wireless and multi-room speaker markets to surpass 90 million unit shipments by 2021, it's safe to say users have already begun to recognize the perks to owning a whole-home audio system.
Easy Installation
Built to synchronize sound, multi-room systems are completely painless in the setup department (which is a rare feature of modern electronics). In the competitive multi-room market, leading system manufactures are doing their utmost to ensure the ease of user experience. No one wants to read a 30-page manual, and thanks to the ease of multi-room setup — you won't have to read a page.
Anywhere Sound
Can't sit still? Having the ability to play sound anywhere, from anywhere is another advantage of wireless speaker systems. Multi-room sound usually is based on apps for sound and music control that you can adjust from your smartphone or tablet. Some brands also produce a range of wireless speakers that can sync together (like the HEOS speakers) and allow cross functionalities as well — so each unit can be controlled together or separately right from the app.
This gives users the liberty to listen to different tunes in each room, or the same melody flowing room-to-room. The market for wireless speaker and multi-room systems continues to be shaped by the developing advances in mobile technology the market.
Connectivity
Bluetooth and Wi-Fi both have some variant advantages — and the advanced lines of wireless multi-room systems take advantage of both. Having the option to select which connectivity not only adds to the customer user experience — it also broadens the scope of the connection strength depending on the location and usage of the audio device. Using these to transmit signals wirelessly, multi-room systems are a hands-off and ears-on experience.
Systems are integrated with a wide range of streaming services such as Spotify, Tidal, Amazon Music and more hold an even greater advantage as music possibilities are nearly endless in the cloud. Oh and for the radio buffs, internet radio.
Arrange, rearrange, and continue to enjoy seamless sound…
Because multi-room systems are designed to function together as an integrated system, users can place speakers throughout the desired space as needed and then have the freedom to adjust and move around as desired.
Portability
Because multi-room systems are designed to function together as an integrated system, users can place speakers throughout the desired space as needed and then have the freedom to adjust and move around as desired. Arrange, rearrange, and continue to enjoy seamless sound. With wireless systems, there's also no need to sacrifice placement of speakers based on accessibility since you can control them at a distance. Instead, the speakers can be organized in such a way that the sound is translated and optimized for highest quality sound.
Multi-room Streaming For Pre-existing Wired Speakers
Yamaha & Denon have amplifiers that offer connectivity to wired speakers.
Each zone features a stereo pair of speaker outputs, and each zone can be configured for stereo or mixed mono output. The matrix switching system is equipped to handle virtually any combination of speaker configurations. Denon HEOS Drive HS2 and Yamaha Musicast XDA-QS5400 feature built-in DSP high pass/low pass filters – set any output to full range, subwoofer or satellite speaker modes, with adjustable crossover points.
The speaker outputs feature 4-way binding posts that are compatible with banana plug terminations, and there are 12V trigger outputs. The chassis features quiet fan cooling for long term stability and operational reliability.
Dual RJ-45 Ethernet LAN (CAT Cable) ports are provided, for connection to the network and sharing the internet connection with other devices,
And all zones are controlled via mobile phone or tablet, and the Yamaha & Denon apps are free to download and available on Android or IOS.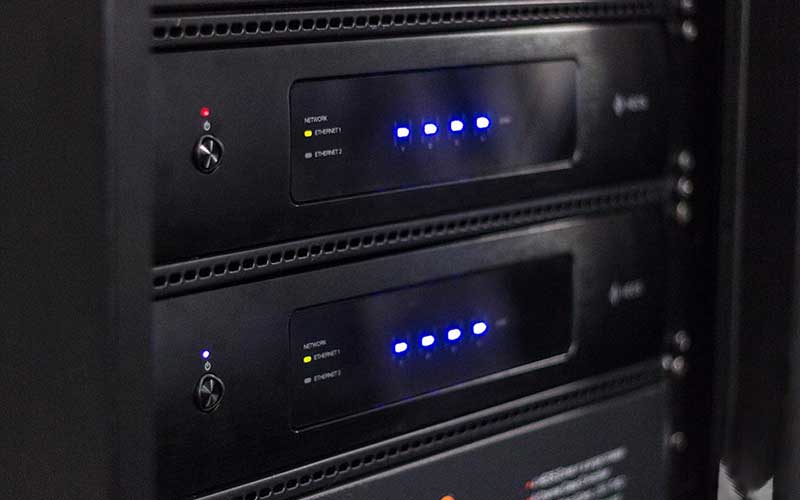 And there's more………Yamaha takes away your pain
Anyone who's had a surround sound home theater system knows the challenges of adding rear speakers into the mix.
First there's the issue of where to place them. Then you need to know how to run the speaker wire so it's out of sight and not a risk for being tripped on — something that's usually dealt with either by using rugs, drilling into the floor (impossible if they're marble!) or running wiring up the walls.
Now MusicCast Surround provides a wireless alternative that takes all the stress out of setting up surround sound.
Designed with flexibility in mind, two Yamaha MusicCast 20 wireless speakers (or one or two MusicCast 50 wireless speakers) can be connected to any MusicCast-capable receiver (*not all Models) and used as rear speakers (surround left and surround right) along with the wired speakers for the front channels (front left, center, front right) to create a full 5.1-channel surround sound system right in your home.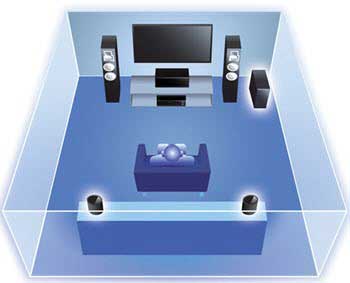 Two MusicCast 20s used as rear speakers.
Two MusicCast 50s used as rear speakers.
A single MusicCast 50 used as a rear speaker.
These speakers provide plenty of placement options since they can be placed on speaker stands, in bookshelves, or on tables — they're even wall-mountable. Even more importantly, they offer a rich, powerful sound that adds a well-rounded audio experience to your home theater. (Just remember that the speakers only work with a 5-channel setup, not 7-channel or more.) The MusicCast 20 and MusicCast 50 can also be used with other MusicCast functions, including stereo and multi-room capabilities for streaming music or other audio content — all you need is a nearby AC outlet for each speaker.
A great addition to this setup is the MusicCast SUB 100, which provides the impactful low end you'll need to enjoy your favorite movies, TV shows, music and video games. This unobtrusive subwoofer is designed to be placed anywhere in the room to give you added flexibility.
And with the MusicCast app and Amazon Alexa devices, you can simplify things even more by using voice commands to control your system. Just download the MusicCast Smart Home skill and MusicCast skill in the Amazon Alexa app and follow the steps to set it up. (For more information, see our blog posting "How to Use Alexa Voice Control with MusicCast".)
To Sum Up
In review, by far the biggest advantage of multi-room wireless speaker systems is the flexibility generated by the advancement of integrated systems and wireless technology. With user-friendly mobile interface control, directing sound is shifted from a remote into a system that is part of the existing lifestyle. Eliminating the unnecessary and delivering impactful sound, control is at the listener's fingertips with endless streaming possibilities. Basically put, it just makes it easy to have great sounds around the house.
BY DEANO LAMBERT | FEB 18, 2021 How to choose a digital-to-analog converter for home or portable audio use? It has never been easier to discover new music, fire up a favorite song, or unearth a forgotten gem from your back-catalogue. That's all good... but how do you...
read more