Product Description
Details
Maximise Your Listening Pleasure
Hi-Fi quality for all your music
Make the Yamaha R-N303 Hi-Fi receiver the centerpiece of your audio system, and get streaming music services, music from your smart phone, network audio, and the music you listen to every day — and enjoy it even more, with superior, exceptionally musical sound. If you truly love music, this single device will open up new dimensions of listening enjoyment you never dreamed possible.
Find your favourites, discover new ones
The R-N303 is compatible with a large variety of popular streaming services, including the widespread Spotify, the up-and-coming Tidal and Deezer services, as well as Napster®, Qobuz, Juke and others — letting you enjoy all your favourite artists, discover new ones, and get music content from all over the world.
* Music service availability varies by region.
Control at your fingertip
Control. It's all in the palm of your hands — with the free MusicCast CONTROLLER app. Simply tap and flick on the intuitively designed screen, and easily operate all of your MusicCast devices, as well as the R-N303.
Advanced circuitry, powerful sound
Each unit is equipped with a high-quality / high-power amp, featuring a single push-pull and discrete configuration that delivers a maximum output of 140 watts/channel (8Ω). Its low-impedance design minimises the lengths of the audio signal paths, while placing the power supply unit near the amp unit eliminates energy loss, achieves superior drivability for optimum sound reproduction with all kinds of speakers, providing exceptionally dynamic, exciting sound.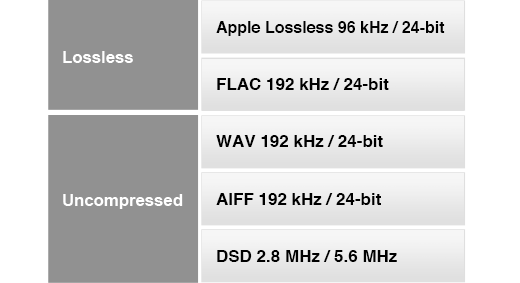 Experience high resolution
The R-N303 supports an extensive variety of high resolution audio formats. Feel the very breath of the vocals, bask in the airy atmosphere of a concert hall — and experience all of the performance as never before.
Your music everywhere
MusicCast employs a high performance wireless network to deliver music and audio enjoyment. It can stream digital music content from your smartphone, PC or NAS to other MusicCast devices in your home. It can also share the music from external devices such as a CD player or TV connected to the R-N303. Audio content from Bluetooth®-connected smartphones or tablets can also be streamed to MusicCast devices in multiple rooms.
Go wireless
The R-N303 is equipped with Bluetooth® functionality to let you enjoy easy wireless music playback from smartphones and other devices.
Hi-Fi sound for your TV
The R-N303 is equipped for digital audio input with both audio and coaxial terminals. The optical is for receiving audio from a TV and the coaxial is for receiving audio from a Blu-ray Disc™ player. The audio stays in the digital domain, giving you pure, pristine, dynamic sound for all your entertainment sources, from sports and other programmes to movies and concerts.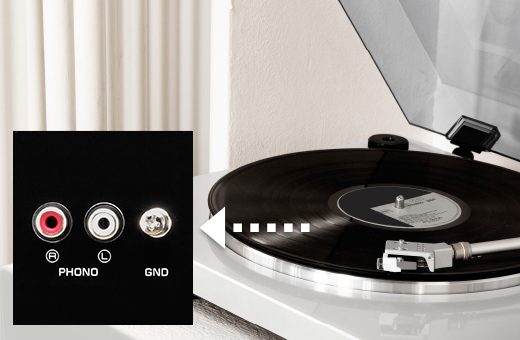 Enjoy your records, too
The comprehensive connectors of the R-N303 include special phono input terminals, letting you easily connect a turntable and enjoy music from your vinyl record collection.
Specifications
R-N303
R-N602
R-N803
Receiver / Integrated Amplifier
Network section
DLNA
Version 1.5
Version 1.5
Version 1.5
File Format
MP3, WMA, MPEG4 AAC, WAV, FLAC, AIFF, ALAC, DSD
MP3, WMA, MPEG4 AAC, WAV, FLAC, AIFF, ALAC, DSD
MP3, WMA, MPEG4 AAC, WAV, FLAC, AIFF, ALAC, DSD
Wi-Fi
Yes (with Wireless Direct)
Yes (with Wireless Direct)
Yes (with Wireless Direct)
AirPlay
Yes
Yes
Yes
Bluetooth
Yes (SBC / AAC)
Yes (SBC/AAC)
Yes (SBC / AAC)
Minimum RMS Output Power
100 W + 100 W (8 ohms, 40 Hz-20 kHz, 0.2% THD)
80W + 80W (8 ohms, 20 Hz-20 kHz, 0.04% THD)
100 W + 100 W (8 ohms, 20 Hz-20 kHz, 0.019% THD)
Maximum Power (4 ohms, 1kHz, 0.7% THD, for Europe)
115 W + 115 W
105 W + 105 W
160 W + 160 W
Maximum Power(8 ohms, 1 kHz, 10% THD)
140 W + 140 W
115 W + 115 W
145 W + 145 W
High Dynamic Power/Channel (8/6/4/2 ohms)
125 / 150 / 165 / 180 W
105 / 125 / 150 / 178 W
140 / 170 / 220 / 290 W
Frequency Response
0 ± 0.5 dB / 0 ± 3.0 dB
0 ± 0.5 dB / 0 ± 1.0 dB
0 ± 0.5 dB / 0 ± 1.0 dB
Signal-to-Noise Ratio (CD)
100 dB (Input shorted, 500 mV)
100 dB (Pure Direct on, 200 mV)
100 dB (Pure Direct on, 200 mV)
Audio In / Out
6 / 1
9 / 2
10 / 2
Digital Input
Yes (Optical / Coaxial)
-
Yes (Optical / Coaxial)
Phono Input
Yes
-
Yes
Ethernet
Yes
-
Yes
Headphone Out
Yes
-
Yes
FM 50dB Quieting Sensitivity (IHF, 1 kHz, 100% Mod., Mono)
3 µV (20.8 dBf)
3 µV (20.8 dBf)
3 µV (20.8 dBf)
FM Signal-to-Noise Ratio (Mono/Stereo)
65 dB / 64 dB
65 dB / 64 dB
69 dB / 67 dB
Standby Power Consumption
0.1 W (Network standby on / Wi-Fi connection; 1.8 W)
0.1 W
0.1 W (Network standby on / Wi-Fi connection; 1.8 W)
Dimensions (W x H x D)
435 x 141 x 340 mm (with antenna up: 435 x 202 x 340 mm); 17-1/8" x 5-1/2" x 13-3/8" (with antenna up: 17-1/8" x 8" x 13-3/8")
435 x 151 x 392 mm; 17-1/8" x 6" x 15-7/16"
435 x 151 x 392 mm (with antenna up: 435 x 215 x 392 mm); 17-1/8" x 6" x 15-7/16" (with antenna up: 17-1/8" x 8-1/2" x 15-7/16")
Weight
7.2 kg; 15.9 lbs.
9.8 kg; 21.6 lbs.
11 kg; 24.3 lbs.
Total Harmonic Distortion (CD to Sp Out, 20 Hz-20 kHz)
-
0.015% (40 W / 8 ohms)
-
USB Input
-
Yes
Yes
Subwoofer Out
-
Yes
Yes
ToP-ART
-
Yes
Yes
Control (Trigger) Out
-
-
Yes
Pure Direct
-
-
Yes
Resources
Why buy from us?
Why buy from us?
Rapallo is an independently owned New Zealand company and with more than 15 years experience, we offer you both technical expertise and superior service.
Rapallo is fully authorized to sell products by all of the manufacturers listed on our website and in our store. In most cases we are more than a reseller, we are a direct dealer who also receives training and where possible we personally test products we sell.
Authorized dealers like us offer peace of mind. Rapallo
meets manufacturer's standards, from sales to service, in order to receive authorized status.
often receives training directly from manufacturer representatives and shares that expertise with you.
provides support for all the products they sell.
ensures that manufacturer warranties will be honoured.
buys directly from big brand manufacturers and guarantee you buy NZ new, (no grey imports or parallel imports).
The Internet is an incredibly convenient information source and a wonderful way to find savings on the products you want. Protect yourself online by buying from authorized dealers, with genuine feedback and reputations.
A price too good to be true, usually is.
If you've ever searched for a product on a shopping engine (such as Priceme/Pricespy) you may have asked yourself, "Why are some stores charging so much less than other stores?"
Our customers often share these stories with us, so we thought we would share a few with you, in hopes that you don't fall prey to any of these unscrupulous sales tactics.
Goods may be grey market/parallel imported. They may state that the product includes the manufacturer warranty, but not tell you that the warranty is valid only in Europe, Japan, or South America, and NOT in NZ.
You may be asked to buy an expensive extended warranty. In many cases if you do not purchase the warranty, your purchase will be denied. (The product is now out of stock, your card does not go through, etc.)
Included parts may be sold to you separately. Some resellers will open boxes and charge extra for parts that are normally included by the manufacturer.
Hidden charges which don't show up until your credit card statement arrives, these charges only show up when your credit card statement is sent to you.
When something goes wrong, faulty, late delivery, doesn't matter how many times you try to email, they don't get back.
There are so many scamming online sellers today, "buyer beware" protect yourself!
Think you have a better price from someone in NZ (authorised dealer)? Call us, we'll see what we can do.
12 months interest free over $1,000 or 18 months interest free over $2,000 finance available (on non-discounted items). Apply

here

.
Call us 09 2744515
Concerned About Fraud?
The internet has become a more popular source for online shopping, regrettably we have seen more and more instances of fraud affecting online shoppers. Companies trading under many different names, loading warranties and charging for them as extras when often they are included from the manufacturer. Parallel imports or personal imports where the NZ supplier refuses to repair when things go wrong is often alarming to the unsuspecting purchaser. Inflated freight charges, customs and GST at the border are often forgotten as a buyer is tempted by a lower price. Constantly we hear all these stories, once bitten it's all to late looking for that refund or replacement. The stories are outrageous at times, customers from Trademe and ebay with no place to turn, time consuming and very frustrating….
So how do you protect yourself from online fraud?
Buy from an authorized reseller. If you are at all suspicious, contact the manufacturer directly and ask if a company is authorized to sell their products.
Make sure you get a company invoice with GST clearly marked.
Make sure you buy from someone who has a phone number and an address on their website, not a P.O.Box number
Read customer feedback, you can usually tell if it's genuine or not.
We hope that you will become our next happy customer. And we promise to offer you superior service before, during and after your purchase.
You may also be interested in the following product(s)