Product Description
Details
KEY FEATURES & BENEFITS
3 x Brighter Colours and Reliable Performance*

– 3LCD, 3-Chip Technology. Look for both high colour brightness and high white brightness.

Amazing Colour Brightness

– 3,300 lumens colour and 3,300 lumens white brightness.

Crisp, Clear Resolution

– Featuring XGA resolution for sharp images.

Travel Friendly

– Weighs only 2.5kg for convenient travel between home and business.

Versatile connectivity

– Compatible with the latest laptops and media players and supports HDMI.

Epson iProjection

– Wirelessly display and control from your iPhone®, iPad® or iPod Touch®, Android™, and Chromebook devices (wireless LAN needs to purchased separately).

Easy Maintenance

– Both lamp and filter cycle for 6,000/10,000hrs (normal/ECO).

Built in Speaker

– Presenting is easy with a built in speaker.
*Colour brightness (colour light output) in brightest mode, measured by a third-party lab in accordance with IDMS 15.4. Colour brightness will vary depending on usage conditions. Top-selling Epson 3LCD projectors versus top-selling 1-chip DLP projectors based on PMA Research sales data for Dec.2015 through Nov.2016.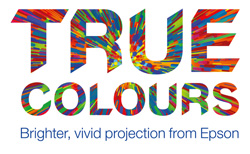 True Colours
White brightness alone cannot bring the true colours you see every day. While other manufacturers of 1-chip DLP technology believe they can improve image quality by just increasing the brightness of their projectors' white light output, Epson ensures that its projectors combine brightness and True Colour to create vibrant and realistic images with 3LCD technology across every projector model.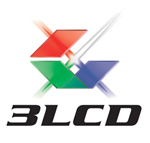 3LCD Technology
All Epson projectors are based on 3-chip LCD technology for amazing colour, incredible detail and solid reliability. 3LCD's 3-chip architecture dedicates an entire chip to process each primary colour – red, green and blue, continuously. Unlike single-chip technology that delivers colour sequentially, you get full-time colour. The result is vibrant, realistic images and video all delivered with 3LCD's true-to-life colour.

Up to 3x Brighter Colours with Epson Projectors*
Epson projectors use 3LCD Engines that have no colour wheel with a white segment and therefore don't force a trade-off between white and colour brightness. In fact, Epson projectors have up to 3x Brighter Colours than their leading competitive 1-chip DLP projectors*. If you are looking for business and education projectors or 720p home entertainment projectors, know that choosing Epson projectors means up to 3x brighter colours. If you are looking for 1080p home entertainment projectors, you consistently get 2x and up to 3x Brighter Colours than competitor 1-chip DLP projectors*.
All Epson projectors list both White Brightness and Colour Brightness specifications, and all have high Colour Brightness.
*Colour brightness (colour light output) in brightest mode, measured by a third-party lab in accordance with IDMS 15.4. Colour brightness will vary depending on usage conditions. Top-selling Epson 3LCD projectors versus top-selling 1-chip DLP projectors based on PMA Research sales data for Dec.2015 through Nov.2016.
High brightness
Even though its compact size enables it to be carried from room to room, the EB-140 projector is capable of highly visible images thanks to its high brightness (up to 3,400lm) and superior 15,000:1 contrast ratio. Room lights don't have to be dimmed to see bright and clearly projected images, allowing meeting participants to concentrate better for improved productivity.

Epson iProjection App
Display and control content from your iPhone®, iPad® or iPod touch®, Android™ and Chrome devices with the Epson iProjection App. This free application allows you to travel light and present from your mobile device. Just turn on the projector, use Epson iProjection to scan the on-screen QR code, and share content on the big screen. (An optional ELPAP10 Wireless LAN unit is required for the EB-S140 and EB-X140).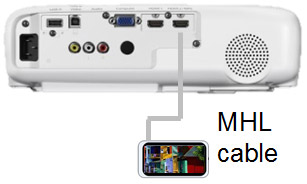 HDMI connectivity and MHL
Get both audio and brilliant HD video content with just one cable that can connect with the latest laptops, Blu-ray Disc®, media players and MHL-enabled devices. The EB-140 series enables you to display content from MHL-enabled smartphones and tablets, as well as charge your MHL-enabled device when it's connected to the projector. (MHL connectivity only available with EB-U140).
USB Plug 'n Play
Epson's advanced 3 in 1 USB connectivity enables instant Plug 'n Play setup for Video, Audio and Control. Forget about complicated computer key sequences and non-intuitive controls. Instead, just plug in a standard USB cable and let your presentation impress the audience.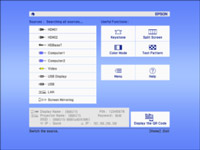 New home screen
New home screen offers quick and easy access to a variety of useful functions. Also, all source information, no matter what the source input is, can be seen at a glance. Wireless connections can be made easily because all the information you need is right there on the screen.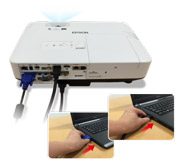 Quick, convenient control
The EB-140 Series is easier to control than ever through its Auto Power On feature. There is no need to turn on the power using the remote control or the power button on the projector itself because start-up is activated with cable insertion.
With Sleep Mode (A/V Mute) you can pause your presentation or movie without turning the projector off. The projector also enables you to quickly power down, pack up and go with its Instant Off® feature, allowing you to control your projector with the flip of a switch.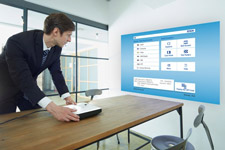 Easy image adjustments with auto vertical correction
Position your projector almost anywhere in the room and still get a correctly proportioned image with auto vertical correction and horizontal slide image correction. Being able to adjust the image easily and quickly, even in a limited space, makes the EB-140 series perfect for narrow spaces, such as on a desk.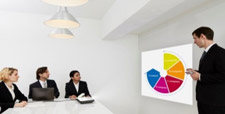 Shorter throw distance
The short throw ratio means you can project onto a large screen even in small spaces eliminating concern about where presentations can be made.

Low Cost of Ownership
With both filter and lamp life in ECO mode of 10,000 hours, it is now easier and more economical than ever to run our entry level projectors. The new EB-140 Series also includes a new reduced lamp price which, along with the High Efficiency Filter, allows for a hassle free maintenance.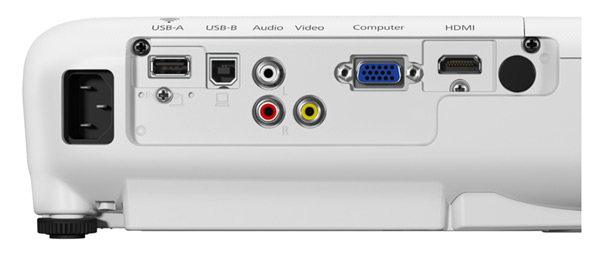 Specifications
PRODUCT NAME
Epson EB-X140
PRODUCT CODE
V11H839153
WHAT'S IN THE BOX
Projector, 1.8m power cable, 1.8m computer cable, remote control, 2 x AA batteries.
TECHNOLOGY
Projection System
Epson 3LCD, 3-chip technology
LCD Panel
0.55-inch (D10)
OPTICAL
Zoom
1.0 - 1.2 (Optical Zoom)
Screen Size
30" to 300" [0.9 to 9.0 m] (Zoom: Wide)
30" to 300" [1.08 to 10.8 m] (Zoom: Tele)
Projection Distance
60" screen 1.8 - 2.17 m
Throw Ratio
1.48 (Zoom: Wide), 1.77 (Zoom: Tele)
Projection Lens F Number
1.58-1.72
Projection Lens Focal Length
16.9 mm-20.28 mm
Focus Method
Manual Focus
Offset
8:1
IMAGE
Colour Light Output
3,300 Lumens
White Light Output
3,300 Lumens
Resolution
XGA
Native Aspect Ratio
4:3
Contrast Ratio
15,000:1
Lamp Hours
Normal/Eco: 6,000/10,000 Hours
Lamp Type
215 W UHE
Keystone Correction
Vertical: -30 to +30 degrees
Horizontal: -30 to +30 degrees
CONNECTIVITY
Input: Video
1 x RCA (Yellow)
Input: Computer
1 x D-sub 15-Pin (RGB), 1 x USB 2.0 type B
Input: USB Memory Device
1 x USB Type A
Input: Three-In-One USB Display
1 x USB 2.0 Type B
Input: Digital
1 x HDMI
Input: Audio
2 x RCA (1 x White, 1 x Red)
Input: Control
1 x USB 2.0 type B
Input: Epson USB Document Camera
1 x USB 2.0 type A
Wireless LAN
Optional
Speaker Output
2W
ADVANCED FEATURES
Epson Projector Management
Yes
Epson iProjection
Yes
PC Free Presentations
Yes
USB Plug 'n Play
Yes
AV Mute Slide
Yes
Split Screen
N/A
Instant Off
Yes
Auto Power On
Yes
Direct Power On/Off
Yes
Security
Kensington®-style lock provision, Password protect function, Padlock & Security Cable Hole, Optional wireless LAN unit lock
Colour Modes
Dynamic, Presentation, Cinema, sRGB, Blackboard
GENERAL
Dimensions D x W x H (Including Feet)
302 x 77 x 234 mm
Weight
2.5 kg (approximate)
Compatible lamp model
ELPLP96
Lamp Warranty
12 Months or 750 hours*
Projector Warranty
2 Years
Power Consumption: Lamp on
Normal/Eco: 291W/214W
Noise Level
Normal/Eco: 37/28dB
*

Which ever comes first

Epson is the registered trademark of Seiko Epson Corporation. Epson ESC/P2 and Epson Stylus are trademarks of Seiko Epson Corporation. MicroDot is a trademark of Epson Australia Pty Limited. All other product names and other company names used herein are for identification purposes only and may be the trademarks or registered trademarks of their respective owners. Epson disclaims any and all rights in those marks. Specifications are subject to change without notice.
Resources
Why buy from us?
Why buy from us?
Rapallo is an independently owned New Zealand company and with more than 15 years experience, we offer you both technical expertise and superior service.
Rapallo is fully authorized to sell products by all of the manufacturers listed on our website and in our store. In most cases we are more than a reseller, we are a direct dealer who also receives training and where possible we personally test products we sell.
Authorized dealers like us offer peace of mind. Rapallo
meets manufacturer's standards, from sales to service, in order to receive authorized status.
often receives training directly from manufacturer representatives and shares that expertise with you.
provides support for all the products they sell.
ensures that manufacturer warranties will be honoured.
buys directly from big brand manufacturers and guarantee you buy NZ new, (no grey imports or parallel imports).
The Internet is an incredibly convenient information source and a wonderful way to find savings on the products you want. Protect yourself online by buying from authorized dealers, with genuine feedback and reputations.
A price too good to be true, usually is.
If you've ever searched for a product on a shopping engine (such as Priceme/Pricespy) you may have asked yourself, "Why are some stores charging so much less than other stores?"
Our customers often share these stories with us, so we thought we would share a few with you, in hopes that you don't fall prey to any of these unscrupulous sales tactics.
Goods may be grey market/parallel imported. They may state that the product includes the manufacturer warranty, but not tell you that the warranty is valid only in Europe, Japan, or South America, and NOT in NZ.
You may be asked to buy an expensive extended warranty. In many cases if you do not purchase the warranty, your purchase will be denied. (The product is now out of stock, your card does not go through, etc.)
Included parts may be sold to you separately. Some resellers will open boxes and charge extra for parts that are normally included by the manufacturer.
Hidden charges which don't show up until your credit card statement arrives, these charges only show up when your credit card statement is sent to you.
When something goes wrong, faulty, late delivery, doesn't matter how many times you try to email, they don't get back.
There are so many scamming online sellers today, "buyer beware" protect yourself!
Think you have a better price from someone in NZ (authorised dealer)? Call us, we'll see what we can do.
12 months interest free over $1,000 or 18 months interest free over $2,000 finance available (on non-discounted items). Apply

here

.
Call us 09 2744515
Concerned About Fraud?
The internet has become a more popular source for online shopping, regrettably we have seen more and more instances of fraud affecting online shoppers. Companies trading under many different names, loading warranties and charging for them as extras when often they are included from the manufacturer. Parallel imports or personal imports where the NZ supplier refuses to repair when things go wrong is often alarming to the unsuspecting purchaser. Inflated freight charges, customs and GST at the border are often forgotten as a buyer is tempted by a lower price. Constantly we hear all these stories, once bitten it's all to late looking for that refund or replacement. The stories are outrageous at times, customers from Trademe and ebay with no place to turn, time consuming and very frustrating….
So how do you protect yourself from online fraud?
Buy from an authorized reseller. If you are at all suspicious, contact the manufacturer directly and ask if a company is authorized to sell their products.
Make sure you get a company invoice with GST clearly marked.
Make sure you buy from someone who has a phone number and an address on their website, not a P.O.Box number
Read customer feedback, you can usually tell if it's genuine or not.
We hope that you will become our next happy customer. And we promise to offer you superior service before, during and after your purchase.