Product Description
Details
Designed for today's BYOD classroom, the Epson EB-600 series takes classroom collaboration further. Offering 3x Higher Colour Brightness1 than competitive models, Epson® 3LCD projectors and displays ensure bright, vivid images. It features optional wireless functionality (module sold separately) and advanced connectivity, so teachers can easily share content from multiple student devices, including Chromebooks — up to four at once with Moderator software2. Plus, its lamp lasts up to 10,000 hours in ECO Mode.
KEY FEATURES
3 x Brighter Colours and reliable performance

– 3LCD, 3-Chip Technology. Look for both high colour brightness and high white brightness

Bright Images

– 3,500 lumens colour/white brightness

Amazing images

– WXGA resolution (1280 x 800) and 16:10 format

Ultra-short throw presentation display

– get a 100" image from as little as 28cm away with virtually no shadow interference

Simultaneously display and control multiple device screens

– wirelessly share content from up to four devices, including Chromebooks, with Moderator software

Manage your display and send announcements remotely

– easy network connectivity; software included

Versatile connectivity

– 3x HDMI® supports multiple high-definition A/V devices, with MHL® support

Powerful sound to engage every student

– built-in 16 W speaker and microphone input; or, use external speakers, even in Standby Mode

10,000Hr maintenance cycle

– the lamp and filter lasts up to 10,000 hours in ECO Mode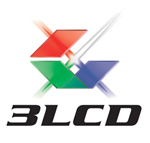 3LCD Technology
All Epson projectors are based on 3-chip LCD technology for amazing colour, incredible detail and solid reliability. 3LCD's 3-chip architecture dedicates an entire chip to process each primary colour – red, green and blue, continuously. Unlike single-chip technology that delivers colour sequentially, you get full-time colour. The result is vibrant, realistic images and video all delivered with 3LCD's true-to-life colour.

Up to 3x Brighter with Epson Projectors*
Epson projectors use 3LCD Engines that have no colour wheel with a white segment and therefore don't force a tradeoff between white and colour brightness.

In fact, Epson projectors have up to 3x Brighter Colours than their leading competitive 1-chip DLP projectors*. If you are looking for business and education projectors or 720p home entertainment projectors, know that choosing Epson projectors means up to 3x brighter colours. If you are looking for 1080p home entertainment projectors, you consistently get 2x and up to 3x Brighter Colours than competitor 1-chip DLP projectors*.

All Epson projectors list both White Brightness and Colour Brightness specifications, and all have high Colour Brightness.

* Compared to leading 1-chip DLP business and education projectors based on NPD data, July 2011 through June 2012. Colour brightness (colour light output) measured in accordance with IDMS 15.4. Colour brightness will vary depending on usage conditions.
Brighter Images
With brightness up to 3,500 lumens, the screen is easily viewed from anywhere in the classroom, even without dimming the lights.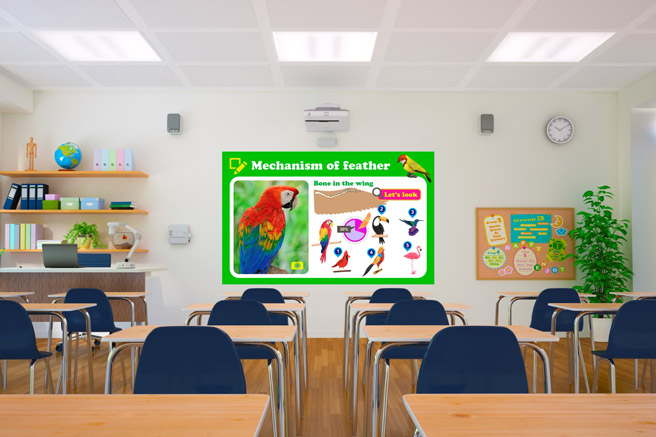 Readability from Anywhere in the room
Ensure every student in the classroom can easily read and understand the information you're sharing. Offering clear, easy-to-see images up to 100", Epson displays help students learn and retain information, regardless of where they sit.

Wide viewing angle
Clear images can be seen from any angle with no limitations of reflective glare. Projected images also allow you to get closer to the image without straining your eyes.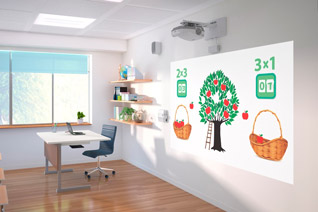 High Resolution
Featuring native resolution of WXGA (1280 x 800), the Epson EB-600 series delivers high quality images and crisp, sharp text without any distortion.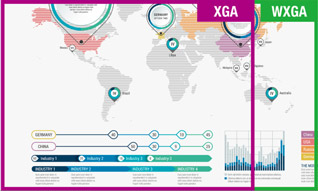 Finger-touch and Dual Pen
Use your fingers to annotate directly onto the screen. Epson's interactive pens are now even more responsive and easy to use. With the new dual pens, teacher and student or two students can work simultaneously using different attributes.

Epson Interactive Projectors and SMART Notebook™ Software
Select Epson interactive projectors are now available with SMART Notebook™ software. The addition of SMART software to Epson Interactive Projectors provides a significant enhancement in collaborative learning. The full SMART Notebook™ learning software solution powers inspired learning by enabling whole class and anywhere, anytime instruction.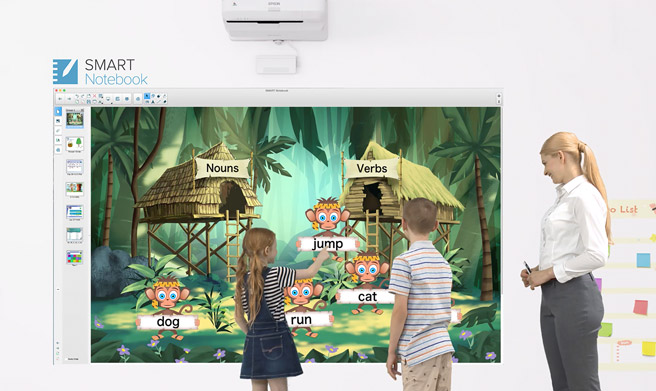 Make any flat surface interactive
Transform existing whiteboards, plain walls, and tables into interactive workspaces. Make the most of your environment with this flexible solution.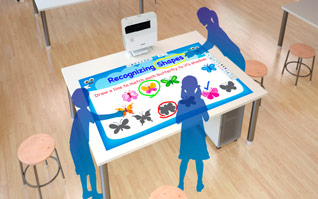 Quick start up
Simply plug in and turn on – the PC-free annotation mode means that teachers don't even need to power up their computers.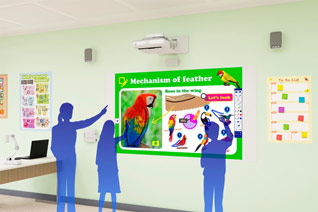 Document camera control

Connect the Epson ELPDC21 document camera to an EB-600 Series projector to easily capture and displays books, 3D objects and experiments. You can also add annotations directly to a projected live image without the need of a PC. To simplify the process you can operate the document camera from the toolbar on the projection screen.
Save lesson notes
You can save projected images to USB as jpeg files. Any annotations written over an image using PC Free Annotation can be saved as well.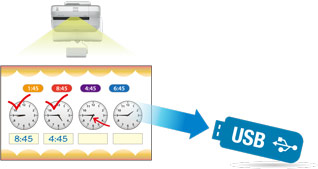 Timer Function
A timer can be easily accessed from the toolbar and displayed on the screen. Whether it's answering problems or holding a group discussion, you can easily manage the time with the whole class.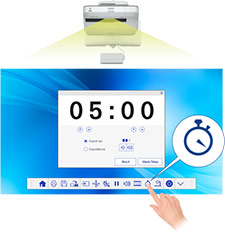 Interactive multi projection
Install two EB-600 series projectors side by side and enjoy the benefits of a huge wall-size area to use as an extended whiteboard. Or, use the included Easy Interactive Tools (EIT) software to achieve a giant display on which you can create or annotate content.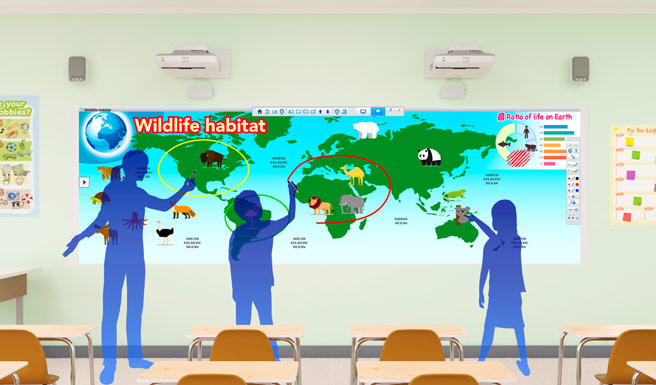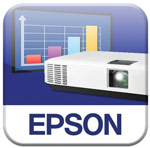 Epson iProjection™ via optional wireless dongle
Epson iProjection is the wireless display solution for today's BYOD classrooms. With true multi-platform support, students can wirelessly display content from Chromebooks, PCs and Mac®computers, as well as iOS and Android devices.
When used in conjunction with Epson Multi-PC projection plus Moderator device management software4, up to 50 users can connect to the projector simultaneously, displaying content from as many as four at a time. It's the perfect tool for displaying a variety of content — or for comparing students' work side by side.
Networking features that take teaching to the next level
Manage up to 1,024 Epson networked displays using the included EasyMP® Monitor software or Crestron RoomView® — saves time and money
Update display firmware in-house via the network, a USB cable, or a USB flash drive — eliminates the need for external service centre repairs; saves time and money
Send updates or announcements remotely to up to 1,024 Epson networked displays using the Message Broadcasting plug-in for EasyMP Monitor
Connect your display to an access point to share it with the entire class, without running more cables
4Moderator feature is part of Easy MP Multi-PC Projection software
EASY INSTALLATION AND MAINTENANCE
Easy Setup Options
Epson displays offer a suite of innovative features that ensure flexible placement and fast, easy setup:
3x HDMI — supports multiple high-definition A/V devices. Compatible with the latest laptops, Blu-Ray Disc® and media players
MHL — the latest in connectivity
Display content from your MHL-enabled smartphones, tablets and streaming devices
Use the display remote to control MHL-enabled devices
Charge your MHL-enabled device when it's plugged into the display5
Offers instant access to movies, games and more
Quick Corner® — this innovative feature allows you to move any of the four corners of an image independently, to adjust each corner for a perfectly rectangular picture
Advanced 3-in-1 USB Plug'n Play instant setup — instantly project audio and video from a PC or Mac via a USB connection
Quick, convenient control — Instant Off® means no cool-down time required; it's ready to shut down when you are
Copy menu settings for multiple display installations — save on installation time; copy settings via a USB flash drive, USB cable or LAN
Flexible wall mount (optional)
Easily install the display with convenient adjustments, color-coded dials and on-screen prompts. Wide cut-outs facilitate cable management.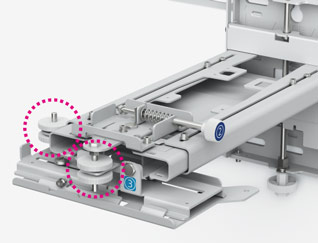 10,000H Maintenance cycle
The lamp and filter now share the same 10,000 hour replacement schedule when run in eco mode. This saves time and money by reducing the frequency of costly replacements.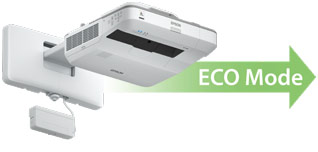 5Depending on your MHL device, charging may not be supported
Easily conserve power
Epson delivers a number of features aimed towards conserving power and delivering top performance:
ECO Mode — operates the display in a lower brightness setting
Light Optimizer Mode® — adjusts the lamp brightness, based on the projected image
Auto Mode — sensor automatically adjusts the lamp brightness, based on the room environment
Sleep Mode (A/V Mute) — control your presentation; it's right at your fingertips
Direct Power Off/On — power the display on/off with the flip of a wall switch
Standby audio — use the display's internal speakers or continue to pass audio out to an external speaker, even when the display is "off" (in Standby Mode)
Specifications
PRODUCT NAME
Epson EB-695Wi
PRODUCT CODE
V11H740553
TECHNOLOGY
Projection Technology
Epson 3LCD, 3-chip technology
Projection System
RGB liquid crystal shutter projection system
LCD Panel
0.59-inch with (D9, C2 Fine)
OPTICAL
Zoom Ratio
1.0 - 1.35 (Digital Zoom)
Screen Size (Projection Distance)
60" to 100" [35.4 to 60.1cm]
74.3" screen 44.3cm
Throw Ratio
0.28 (Zoom:Wide)
0.37 (Zoom:Tele)
Projection Lens Type
No Optical Zoom / Focus (Manual)
Projection Lens F Number
1.6
Projection Lens Focal Length
3.7 mm
Focus Method
Manual Focus
Offset
5.8:-4
IMAGE
White Light Output
3,500 lumens
Colour Light Output
3,500 lumens
Resolution
WXGA
Native Aspect Ratio
16:10
Contrast Ratio
14,000:1
Keystone Correction
Vertical: -3 to +3 degrees
Horizontal: -3 to +3 degrees
Colour Reproduction
Up to 1.07 billion colours
Colour Processing
10 bit
CONNECTIVITY
Video I/O - Input
2x RGB D-sub 15pin
*Computer 2 in common with Monitor Out
1x RCA Composite
Video I/O - Output
1x RGB D-sub 15pin
*Computer 2 in common with Monitor Out (Output signal : Computer 1 only)
Digital Input
3x HDMI (1 supports MHL)
Audio I/O - Input
3x Stereo mini
Audio I/O - Output
1x Stereo mini
Mic I/O - Input
1x Stereo mini
Control I/O
1x RS-232C D-sub 9pin
Interactive sync stereo mini - 1x In, 1x out
Touch Unit control - 1x Min DIN 8pin
USB I/O
1x USB Type A (for USB Memory, USB Document Camera, Firmware update, Copy OSD settings)
1x USB Type B (for USB display, mouse, K/B, Control, Firmware update, Copy OSD settings)
Network I/O:
1x RJ45 (100Mbps) Wired LAN
1x USB Type A (for Optional ELPAP10 LAN unit)
Wireless Connectivity
Optional ELPAP10 Wireless LAN unit
Speaker Output
Monaural: 16 W x 1
ADVANCED FEATURES
EasyMP Network Projector control and projector management via network
Yes
AMX Device Discovery
Yes
Crestron Integrated Partner
Yes
Crestron RoomView
Yes
Extron IP Link
Yes
Control4
Yes
EasyMP Network Multi PC Projection
Yes
Message Broadcasting
Yes
Easy Interactive Function
Supported screen size - 60"-100"
Supports multiple screens
Technology - Infrared
Input devices:
Digital Pen (Easy Interactive Pen 1,2), Finger (1-6 fingers)
Calibration:
Pen: Auto / Manual (25points), Finger: Manual (16 points)
Finger Interactive Unit
Dimension: 210x95x51mm
Weight: 450g
Technology: Infrared laser (class 1)
Adjustment: Yes (manual)
Control I/O: 1x Min DIN 8pin
Security: Kensington® - lock provision
PC Interactive Tool
Multiple pen/finger support: Yes (with Easy Interactive Tools Ver.4.20)
Easy Interactive Pen: Up to 2.
Finger: Up to 6
PC Free Annotation Tool
Multi-pen support: Yes
Easy Interactive Pen: Up to 2.
Finger: Up to 2
Whiteboard function
Projector operation
Firmware update
Network via LAN cable, USB A via USB thumb drive, USB B via USB cable
Copy OSD settings
Network via LAN cable, USB A via USB thumb drive, USB B via USB cable
Quick Wireless Connection
Yes
Wireless LAN Security
WPA/WPA2-Personal (with optional Wireless LAN Unit)
Instant Off
Yes
Direct Power On
Yes
Auto Power On
Yes (Computer1,USB-B)
Security
* Kensington® - lock provision
* Padlock & Security cable hole
* Wireless LAN unit lock
* Password protect function (Power On, Network, Protection of User logo)
Colour Modes
Dynamic, Presentation, Cinema, sRGB, BlackBoard
Integrated Mount
Optional (ELPMB46)
GENERAL
Dimensions (excl feet) WxDxH
367 x 400 x 149mm
Weight
5.8kg
Lamp Warranty
1 Year (or 750 hours)*
Projector Warranty
3 Years
Lamp Hours
5,000 hours (Normal)
10,000 hours (ECO)
Lamp Type
250W UHE
Power Consumption: Lamp On
354W (Normal)
309W (ECO)
Power Consumption: Networked Standby
2.3W
Power Consumption: Energy Saving
0.37W
Air Filter maintenance cycle
up to 10,000 hours
Fan Noise Level
35dB (Normal)
30dB (ECO)
* Whichever comes first. For more information visit Epson Projector Warranty
WHAT'S IN THE BOX
Main Unit
EB-695Wi Projector
Power Cable
Yes 5M
USB Cable
Yes 5M
Remote Control
Yes
Battery for Remote Control
AA x 2
Setting Plate
Yes
Easy Interactive Pen
2 Pens
Battery for Easy Interactive Pen
AA x 2
Pen Tray
Yes
Pen tip (Soft)
x4
Pen tip (Hard)
x2
Pen tip Holder
Yes
Light Curtain Finger Touch Unit
Yes
Feet for main unit
No
Password Protect sticker
Yes
PRODUCT OPTIONS
Description
Lamp ELPLP91
Air Filter ELPAF49
USB Extention cable ELPKC31
Wall Mount ELPMB46
Table Mount ELPMB29
External speakers ELPSP02
Wireless LAN ELPAP10
Document Camera ELPDC21
Easy Interactive Pen 1 (Orange) ELPPN05A
Easy Interactive Pen 2 (Blue) ELPPN05B
Replacement Hard Pen Tips ELPPS03 for ELPPN05(New: Hard)
Replacement Soft Pen Tips ELPPS04 for ELPPN05(New: Soft)
Control Box ELPCB02
Resources
Why buy from us?
Why buy from us?
Rapallo is an independently owned New Zealand company and with more than 12 years experience, we offer you both technical expertise and superior service.
Rapallo is fully authorized to sell products by all of the manufacturers listed on our website and in our store. In most cases we are more than a reseller, we are a direct dealer who also receives training and where possible we personally test products we sell.
Authorized dealers like us offer peace of mind. Rapallo
meets manufacturer's standards, from sales to service, in order to receive authorized status.
often receives training directly from manufacturer representatives and shares that expertise with you.
provides support for all the products they sell.
ensures that manufacturer warranties will be honoured.
buys directly from big brand manufacturers and guarantee you buy NZ new, (no grey imports or parallel imports).
The Internet is an incredibly convenient information source and a wonderful way to find savings on the products you want. Protect yourself online by buying from authorized dealers, with genuine feedback and reputations.
A price too good to be true, usually is.
If you've ever searched for a product on a shopping engine (such as Priceme/Pricespy) you may have asked yourself, "Why are some stores charging so much less than other stores?"
Our customers often share these stories with us, so we thought we would share a few with you, in hopes that you don't fall prey to any of these unscrupulous sales tactics.
Goods may be grey market/parallel imported. They may state that the product includes the manufacturer warranty, but not tell you that the warranty is valid only in Europe, Japan, or South America, and NOT in NZ.
You may be asked to buy an expensive extended warranty. In many cases if you do not purchase the warranty, your purchase will be denied. (The product is now out of stock, your card does not go through, etc.)
Included parts may be sold to you separately. Some resellers will open boxes and charge extra for parts that are normally included by the manufacturer.
Hidden charges which don't show up until your credit card statement arrives, these charges only show up when your credit card statement is sent to you.
When something goes wrong, faulty, late delivery, doesn't matter how many times you try to email, they don't get back.
There are so many scamming online sellers today, "buyer beware" protect yourself!
Think you have a better price? Call us for the best deal.
12 months interest free over $1,000 or 18 months interest free over $2,000 finance available. Apply

here

.
Call us 09 2744515
Concerned About Fraud?
The internet has become a more popular source for online shopping, regrettably we have seen more and more instances of fraud affecting online shoppers. Companies trading under many different names, loading warranties and charging for them as extras when often they are included from the manufacturer. Parallel imports or personal imports where the NZ supplier refuses to repair when things go wrong is often alarming to the unsuspecting purchaser. Inflated freight charges, customs and GST at the border are often forgotten as a buyer is tempted by a lower price. Constantly we hear all these stories, once bitten it's all to late looking for that refund or replacement. The stories are outrageous at times, customers from Trademe and ebay with no place to turn, time consuming and very frustrating….
So how do you protect yourself from online fraud?
Buy from an authorized reseller. If you are at all suspicious, contact the manufacturer directly and ask if a company is authorized to sell their products.
Make sure you get a company invoice with GST clearly marked.
Make sure you buy from someone who has a phone number and an address on their website, not a P.O.Box number
Read customer feedback, you can usually tell if it's genuine or not.
We hope that you will become our next happy customer. And we promise to offer you superior service before, during and after your purchase.