Product Description
Details
11.2 Pre-Amplifier & 7 Amplifier Channels
Dolby Atmos®
DTS:X™ Ready
ARC™ Anthem Room Correction
4 Speaker Profile Memories
Quad Core Digital Signal Processing
Two Sub Out Jacks (parallel)
Premium 32-bit / 768 kHz Differential-Output D/A Converters
Wireless Network Connection
DTS Play-Fi® – Local and Streaming
HDMI & Video
HDMI 2.0a
HDCP 2.2
4:4:4 Subsampling at 4K60 (18.2 Gbps)
High Dynamic Range (HDR)
BT.2020 Color Gamut
On-Screen Display with 4K 50/60
4K 50/60 Switching
Additional Features & Functions
Advanced Load Monitoring (ALM)
FM Tuner
Low Standby Mode power consumption
Remote control app for iOS (Apple) and Android (coming soon!)
Decoding
Dolby TrueHD
DTS-HD Master Audio
Listening Modes
AnthemLogic – (11.2 channels with MRX 1120 and 720, 5.2 channels with MRX 520)
Dolby Surround
Dolby Pro Logic II on MRX 520
DTS Neo:6 – Cinema, Music
All-Channels – All-Speaker Stereo
Inputs
8 HDMI inputs (7 rear and 1 front-panel input on MRX 1120 and MRX 720, 7 rear inputs on MRX 520)
Digital Audio Inputs: 2 Coaxial + 3 Optical
5 Stereo Analog RCA Inputs
HDMI On-Screen Display – setup, video adjustments, status, song/artist info from radio stations
MHL Supported Inputs
xvYCC, Adobe RGB, Adobe YCC601, sYCC601, Deep color
2 Parallel Outputs
Consumer Electronic Control (CEC)
Audio Return Channel
Standby Pass-through
Custom Installation
IR Control
RS-232 Control
IR Input (Configurable)
12V Trigger Output
Control System Drivers
Additional Features
Backlit Remote Control
Sidemount Rack Kit (sold separately)
Design Details

| | | |
| --- | --- | --- |
| Supports the latest connection options | Powerful internal components | Brushed anodized aluminum aesthetic |
New Color Coded Labeling
To ensure correct speaker hookups the first time, the MRX Gen 3 Series includes color coded loudspeaker terminals and new color coded labeling above speaker specific terminal pairs.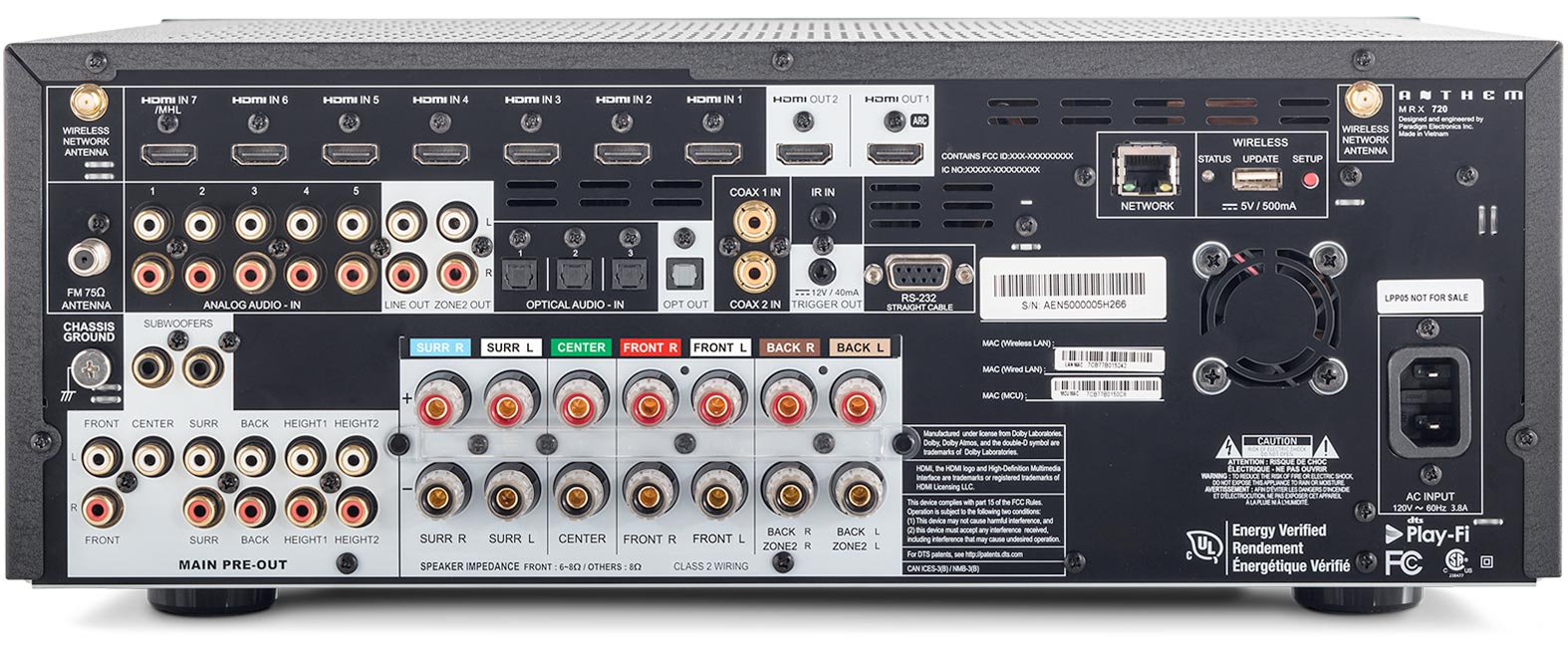 | | | |
| --- | --- | --- |
| Easy-to-read intuitive display | Premium Binding Posts | Wireless network antennas |
Anthem Room Correction (ARC™)
The Easy-To-Use Anthem Room Correction Kit Delivers Professional Results In Any Room
What is ARC?
Simply put, Anthem Room Correction quickly "corrects" the effects that reflective surfaces such as walls, floors and ceilings have on the sound radiating from a loudspeaker. Removing the effects of these obstacles allows your audio equipment to achieve a more natural sound in any room, as close to the lab standard as possible.
On a more complex level, ARC is a proprietary digital signal processing software that works with a specially-engineered calibration microphone and your PC to quickly and easily optimize audio for your unique listening space. Anthem engineers developed the ARC system while researching how to replicate the audio-lab standard of performance in non-lab environments. This groundbreaking research was conducted in conjunction with the National Research Council of Canada, the Canadian government's research and technology organization.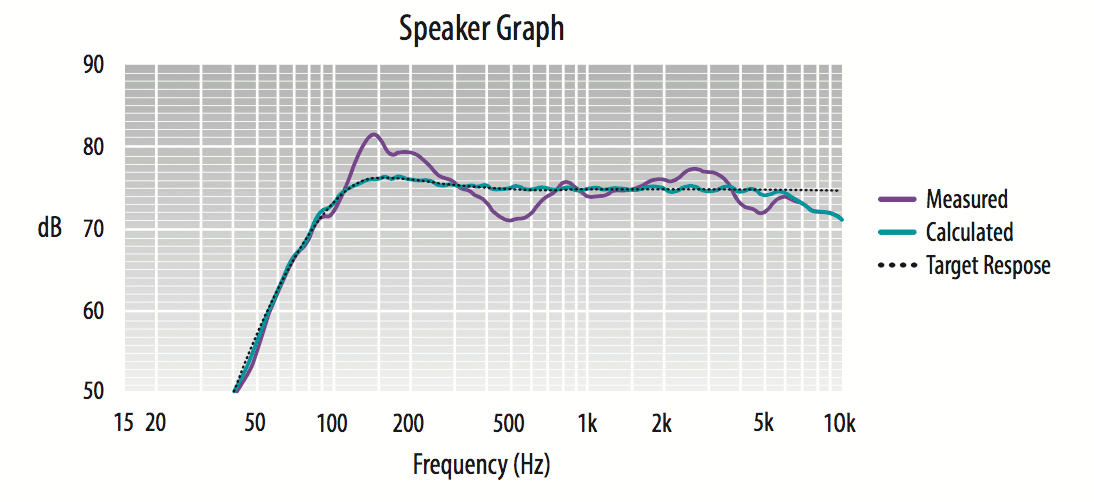 Anthem engineers realized that real world listening experiences had little in common with the controlled environment of the audio lab. That's because even the best loudspeakers are affected by room anomalies like furniture. These obstacles cause standing waves, resonances, and reflections that can color the sound you hear. Imagine the sound waves coming from your speakers as ripples on a water surface. That makes it easy for you to understand how the ripples of sound bounce off any obstruction they encounter. You can immediately see the benefit of removing the obstacles.
ARC digitally compares a room's acoustic signature to that of the lab standard. It measures the response of each speaker relative to the listening area. Then it uses advanced algorithms to eliminate the negative effects of the obstacles in the room, adjusting response and correcting phase effects. When ARC removes the obstacles, what's left is the lab standard performance.
How does ARC work?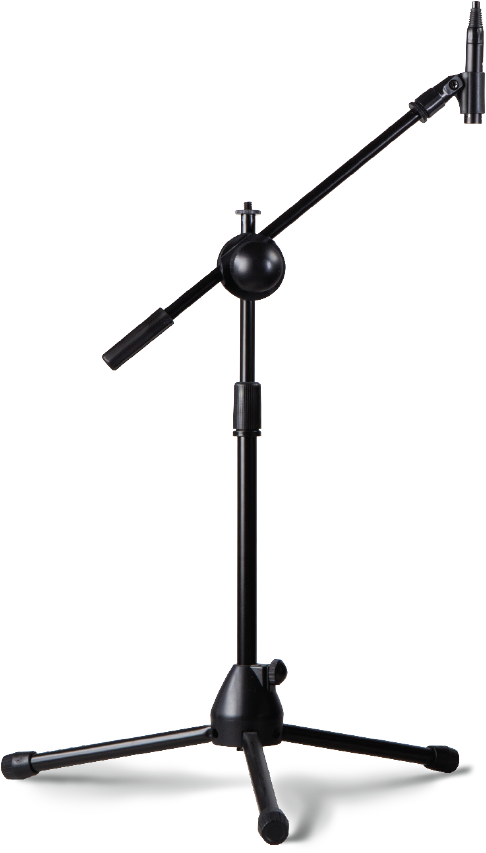 The ARC Kit is easy to use, and just a few simple steps can customize your loudspeakers for your unique listening space.
Each ARC-ready component comes with a complete ARC Kit, consisting of software and microphone calibration file from our website, a professional quality mic stand and high quality connectors. You will need a Windows-based laptop computer with a CD drive.
Plug the kit's custom Calibration Microphone into your computer and into your ARC-ready Anthem A/V receiver. Place the microphone at each of the listening positions in your room (a minimum of five, maximum of ten), and allow ARC to take a sound sample from each location.
The proprietary ARC software measures the difference between the speaker's ideal lab-standard response, and their real-world performance in your room. Then, its sophisticated DSP accurately equalizes response and creates intricate crossover curves so that the performance of the speakers in your room meets the ideal lab standard!
Now you're hearing exactly what our audio engineers intended you to hear: Pure, natural, transparent sound, no matter what challenges your room presents!
Wi-Fi Music Streaming with DTS Play-Fi®
Limitless music. App-controlled convenience. Wireless connectivity.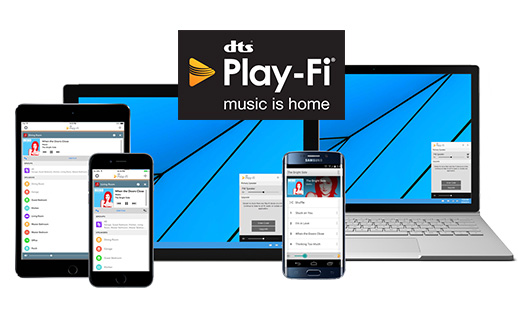 Everyone wants instant access to their digital audio library, anywhere in the home. And Anthem's MRX Series with DTS Play-Fi® technology is the perfect, high performance means of delivery. Anthem MRX Series can take full dynamic advantage of the better-than-CD-quality sound quality delivered by the DTS Play-Fi® streaming technology.
Partnered With the Leader in Wi-Fi Streaming
Partnered with the leader in Wi-Fi streaming, DTS Play-Fi wi-fi streaming technology supports a host of high quality file formats. Controlled directly from your smart device or computer in any operating system, the "Open Ecosystem" of DTS Play-Fi technology makes it easy to stream music throughout your home, and to add more wireless streaming devices on the fly.
Audio Formats Supported by DTS Play-Fi®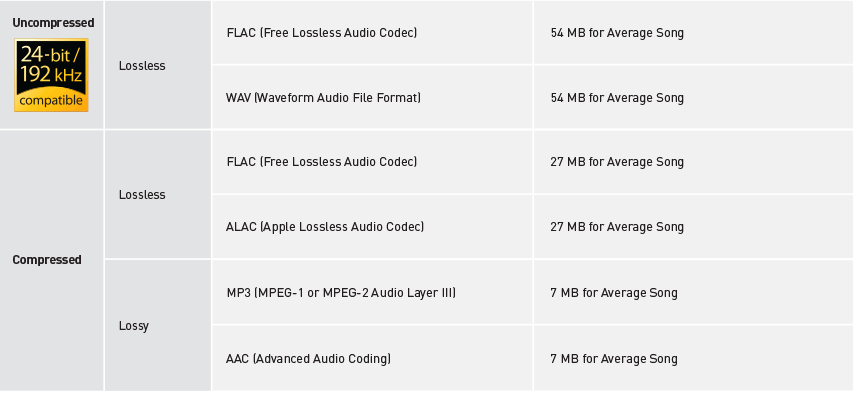 All your music, at your fingertips.
The whole family can now access personal digital audio libraries from anywhere in your home with the touch of a screen. Take advantage of endless choices from online music streaming services*. Stream from any device, Android or iOS mobile or PC, with a wide range of connectivity options for today and tomorrow.
* Some of the music services listed below may not be available in your region. All logos are property of their respective owner(s).

Specifications
PREAMPLIFIER
Maximum Output (<0.1% THD)
4.2 Vrms, subwoofer channel 5.2 Vrms
Frequency Response (2 Vrms output)
10 Hz — 31 kHz (+0, -0.25 dB)
Frequency Response, Analog-Direct (2 Vrms output)
10 Hz — 48 kHz (+0, -0.25 dB)
THD+N (2 Vrms output)
-95 dB
S/N Ratio (2 Vrms output, IEC-A filter)
110 dB
PREAMPLIFIER + AMPLIFIER (1 W OUTPUT)
MRX 1120 / MRX 720
-88 dB channels 1-5, -75 db back/height
MRX 520
-88 dB
MAXIMUM CONTINUOUS OUTPUT (1% THD)
MRX 1120
MRX 720
MRX 520
Channels 1-5, Two Driven into 8 Ohms
140 W
140 W
100 W
Channels 1-5, Two Driven into 6 Ohms
170 W
170 W
130 W
Remaining Channels, Two Driven into 8 Ohms
60 W
60 W
n/a
Remaining Channels, Two Driven into 6 Ohms
75 W
75 W
n/a
POWER CONSUMPTION
MRX 1120
MRX 720
MRX 520
Typical Load
570 W
485 W
365 W
Standby
0.3 W
0.3 W
0.3 W
Standby IP Control Enabled
4.7 W
4.7 W
2.4 W
Standby HDMI Bypass Enabled
8.2 W
8.2 W
5.8 W
DIMENSIONS
Height
6-1/2" (16.5 cm)
Height with Rackmount Kit
4U
Width
17-1/4" (43.9 cm)
Depth (not including power cord)
14-3/4" (37.5 cm)
WEIGHT
MRX 1120
32 lb (14.5 kg)
MRX 720
31 lb (14 kg)
MRX 520
28.2 lb (12.8 kg)
POWER REQUIREMENT
120 V version:
In countries where the line voltage is 120 V, this product operates from a single phase AC power source that supplies between 108 V and 132 V at a frequency of 60 Hz.
220-240 V version:
In countries where the line voltage is 220, 230, or 240 V, this product operates from a single phase AC power source that supplies between 198 V and 264 V at a frequency of 50 Hz.
Resources
Reviews
Why buy from us?
Why buy from us?
Rapallo is an independently owned New Zealand company and with more than 12 years experience, we offer you both technical expertise and superior service.
Rapallo is fully authorized to sell products by all of the manufacturers listed on our website and in our store. In most cases we are more than a reseller, we are a direct dealer who also receives training and where possible we personally test products we sell.
Authorized dealers like us offer peace of mind. Rapallo
meets manufacturer's standards, from sales to service, in order to receive authorized status.
often receives training directly from manufacturer representatives and shares that expertise with you.
provides support for all the products they sell.
ensures that manufacturer warranties will be honoured.
buys directly from big brand manufacturers and guarantee you buy NZ new, (no grey imports or parallel imports).
The Internet is an incredibly convenient information source and a wonderful way to find savings on the products you want. Protect yourself online by buying from authorized dealers, with genuine feedback and reputations.
A price too good to be true, usually is.
If you've ever searched for a product on a shopping engine (such as Priceme/Pricespy) you may have asked yourself, "Why are some stores charging so much less than other stores?"
Our customers often share these stories with us, so we thought we would share a few with you, in hopes that you don't fall prey to any of these unscrupulous sales tactics.
Goods may be grey market/parallel imported. They may state that the product includes the manufacturer warranty, but not tell you that the warranty is valid only in Europe, Japan, or South America, and NOT in NZ.
You may be asked to buy an expensive extended warranty. In many cases if you do not purchase the warranty, your purchase will be denied. (The product is now out of stock, your card does not go through, etc.)
Included parts may be sold to you separately. Some resellers will open boxes and charge extra for parts that are normally included by the manufacturer.
Hidden charges which don't show up until your credit card statement arrives, these charges only show up when your credit card statement is sent to you.
When something goes wrong, faulty, late delivery, doesn't matter how many times you try to email, they don't get back.
There are so many scamming online sellers today, "buyer beware" protect yourself!
Think you have a better price? Call us for the best deal.
12 months interest free over $1,000 or 18 months interest free over $2,000 finance available. Apply

here

.
Call us 09 2744515
Concerned About Fraud?
The internet has become a more popular source for online shopping, regrettably we have seen more and more instances of fraud affecting online shoppers. Companies trading under many different names, loading warranties and charging for them as extras when often they are included from the manufacturer. Parallel imports or personal imports where the NZ supplier refuses to repair when things go wrong is often alarming to the unsuspecting purchaser. Inflated freight charges, customs and GST at the border are often forgotten as a buyer is tempted by a lower price. Constantly we hear all these stories, once bitten it's all to late looking for that refund or replacement. The stories are outrageous at times, customers from Trademe and ebay with no place to turn, time consuming and very frustrating….
So how do you protect yourself from online fraud?
Buy from an authorized reseller. If you are at all suspicious, contact the manufacturer directly and ask if a company is authorized to sell their products.
Make sure you get a company invoice with GST clearly marked.
Make sure you buy from someone who has a phone number and an address on their website, not a P.O.Box number
Read customer feedback, you can usually tell if it's genuine or not.
We hope that you will become our next happy customer. And we promise to offer you superior service before, during and after your purchase.